Testimonials
Hear what parents from around the world have to say.
Hear From Parents Who Are Physicians
Hear From Parents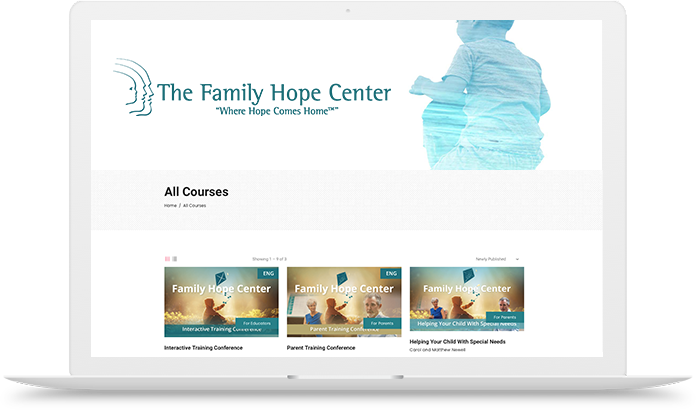 What Parents Who Are Physicians Say About the FHC Approach
Liz Strawbridge, MD
Main Integrative Healing
After suffering a stroke and severe meningitis, my 4-year-old son was left with right sided motor impairment, difficulty with short and long-term memory, spatial disorientation and sensory processing issues. As many parents who suffer the trauma of having a brain-injured child, we could see his heart and soul were still bursting with abundant life and beauty.
As a physician, I was very familiar with the conventional treatment plan of PT and OT laid forth by his brilliant team of doctors at Boston Children's Hospital. I was struck by how these therapies addressed the symptoms (muscle weakness) rather than the root of the problem (a hurt brain). It made much more sense to me that we should be working on creating new neurological pathways rather than trying to fix the manifestation of the broken ones to work.
The 3-day seminar led by the Newells and their team was a crash course in neurodevelopment which dovetailed beautifully with recent data around the science of neuroplasticity. They use detailed anatomical and developmental neural network maps in the brain to evaluate where along the timeline of brain development your child suffered injury, causing a dysfunctional pathway for that particular network resulting in downstream consequences. They design a personalized plan for each child based on the particular sequence of neural dysfunctions and help strengthen the network from the origin of the dysfunction rather than fixing the symptom that is revealing itself.
It is a complete multi-modal brain health approach: optimizing nutrition and fuel for neuro-regeneration, using physiology of breathwork to enhance oxygenation of brain tissue, incorporating body and energy work to repattern pathways, creating a unique sensory stimulation program, and returning to basic motor and reflex pathways such as crawling to develop a strong foundation for the most effective brain development. As parents, we are not just shown an action plan which is extremely empowering, but we are given hope, support, and community.
We saw significant gains after working on the program with our son for 6 months. Both his neurologist and neurosurgeon have been blown away by his progress. The program helps your child adapt and become more resilient, not just get "band aid solutions" that don't promote his or her potentiality and evolution. Now I have applied aspects that I've learned from the program with my other children, myself, and even my patients. I am excited to use this book as a resource in my office and share it with my community.
Madhavi Gupta Dyen, MD
Board Certified Neurologist
When I had my son, I felt many of the things that parents who learn that their child has neuro-development issues do: fear, a sense of loss, and more fear. If I knew what I know now, fear wouldn't even be in my vocabulary. We had been lucky enough to be directed to the Family Hope Center when my son was an infant.
With a diagnosis of Down syndrome and a very nasty bout of a rare seizure type, my son has gone beyond 'thriving.' He is remarkable. He talks, walks, jokes, loves, reads, and laughs like the master of his world that he is.
We continue to expand his brain by use and the principles of the neuro-development program taught to us by the Newells and the specialists at the Family Hope Center. There are no limits to what my son can achieve. I credit the sound principles, based in science and core neurology, and his team for helping him get there.
Dr. Shirley-Anne Jourdan, MD, GP
South Africa
I came to the Family Hope Center conference as an exhausted parent, a frustrated wife, a disillusioned academic, and a resistant medical not-so-professional. I did not believe that 3 days of talking about what I presumed to be neuro-pseudo-science would change my outlook forever. I came heavily armed and guarded with a career of preconceived ideas, arguments, opinions, and training about neuro-development. And I was gently persuaded to pack my weapons away without giving up the science.
The Family Hope Center has the heart of the Healer that I have always longed to cultivate more fully – one who promotes ability and does not stop at disability. The Center focuses on ease, not disease; on full function, not dysfunction, on treats and not just treatment, on joy and not on sadness.
I left the conference feeling contagiously overjoyed at how attainable and do-able the steps to healing can be. Complexity was exchanged for plain and simple truths, demonstrations, testimonies, and results. Yet a sense of awe was maintained at how intricately the brain was designed. Simple ways to experience the magnificent. It was like being given a road map with milestones and beacons to follow through steep mountain paths.
The Family Hope Center team has trodden and carved out these paths over years of research, experience, and training. Their pioneering walk has made the path now possible for everyday parents to walk – every day in their own shoes, in their own homes. And the paths bring thousands to new places and heights and viewpoints.
As I sat in the conference, like being on a mountain top – my eyes were gently opened to realize how God has given us all we need for healing – the air we breathe, the water, the food, the ground under our feet, and the love for our children, and it took my breath away. I will never be the same. And I am ever grateful that the Family Hope Center took me to the precipice; where I did not want to be challenged and with a safe guardrail of evidence and science opened my eyes to look over the edge at new frontiers of hope.
Dr. George Goodwin, MD
Internal medicine physician at Fort Belvoir Community Hospital,
US Army colonel, and
former Director of Disability Evaluations at the Office of the Surgeon General
"Foreword to Healing Your Child's Brain"
As an internal medicine physician with more than twenty years of experience, I carried a high degree of skepticism toward alternative treatment systems that had not already been clinically proven. I received my doctor of medicine from the Uniformed Services University of the Health Sciences in Bethesda, Maryland. I am board certified in internal medicine. I had the privilege to serve for over twenty-five years in the army. During my career, I was deployed twice, serving our soldiers in both Iraq and Afghanistan. I also was the chief medical officer for a military medical facility at Fort Eustis, Virginia. I culminated my career as a colonel in the Pentagon overseeing the disability program for our wounded warriors and directing all the medical standards for readiness in the army. All this experience was within what would be considered traditional medicine.
For my wife, Renee, and I, our journey began with a son who had developmental delays and social challenges in a spectrum disorder. We noted within the first couple of years that although our son was developing physically, he had severe difficulty interacting with others in normal social environments (preschool, church, and other social gatherings). We had our son evaluated several times. We were encouraged by both his teachers and conventional medical providers to put him on medication for ADHD, but never elected to do so. Instead, we were looking for alternatives to help him succeed. Therefore, when one of my colleagues at the Pentagon informed me of the work that Matthew and Carol were doing with their three children, I was cautiously intrigued. He shared the impacts that they were seeing in their children's progress, which was a personal perspective that I could see firsthand.
Renee and I chose to go to a three-day parent training conference to research the actual methodology being implemented at the Family Hope Center. Employing a very holistic approach, Matthew and Carol demonstrated the observable impacts they have seen over nearly forty years of clinical experience. During our time there, I studied all the material that was provided and researched as much medical literature as I could obtain on neuroplasticity and brain healing. Although I still did not fully understand all the underlying physiology of the healing that they were observing, Renee and I decided to partner with Matthew and Carol and the team at the Family Hope Center to see what impact it would have with our son and family because I was convinced that sufficient evidence existed in literature and in the early research Matthew and Carol were completing.
We did have to make some changes in our life to integrate the holistic approach to obtain improvement for our son. The biggest changes were in our schedule (time management and calendar planning) and our diet. The whole family made some adjustments. However, the results were unquestionable. Our son's improvements in his physical abilities, social interactions, and application of cognitive learning were immense. I was unsure how my son would be able to survive in the world with the deficits we were seeing, but now we are confident that he will be able not only to survive but to thrive in the world around him.
As the fields of neurocognitive research, neural development, and brain healing continue to develop, it is exciting to see pioneers that continue to partner with families and to see clinical impacts in the lives of young men and women. Both as a physician and a father, I am thrilled to witness this work being published. It is imperative these perspectives on healing be shared.
This book will begin to provide insights into the application of the principles that Renee and I have used to see the improvements in our home. These clinically proven results based on this fresh approach will positively impact more families, providing hope!
The Family Hope Center
For more than 40 years, we've studied the neurological origins of disabilities in children and incorporated knowledge from global experts in complementary disciplines.
As our understanding deepened, we developed practical, effective ways of promoting and measuring neurological healing and growth in children.
Hear From Parents Who Have Improved Their Childs' Brain Function
Hear From Parents Who Have Improved Their Child's Brain Function
Read What Parents Who Have Improved Their Child's Brain Function Have To Say
L and A's 14-year-old sister
Four years ago, my family was on the verge of breaking. We were scared, and unsure of our future. We were in desperate need of help with my siblings, and trying everything we could think of, but nothing seemed to work. I was only ten years old at the time, and I often found myself frightened of my little brother's outbursts and feeling neglected by my baby sister. I knew what autism was but didn't understand it. I wanted to help but didn't know how. But just when we thought we had tried everything, hope made its way to us.
That summer, my mother attended the Family Hope Center's three-day parent conference and brought back the news that there was still a chance. She was ecstatic and could hardly contain her excitement.
I can seldom remember a time when she was as thrilled as this. At first, I was wary of this new program. I was worried that it wouldn't work out, or that it would fail, as many others had, but after all this time, my expectations have been shattered by the results we have gained from these changes.
We started the diet almost right away and saw changes just as quickly. My younger brother seemed happier and more friendly. I began to feel less afraid of him and realized that it was the first time I saw the real him. And my sister gradually started to allow me to bond with her. It was like they had mental relief and could just be themselves. The diet isn't easy, and we now do home-cooked meals every day. I have even discovered new foods that I love. The extra work we've all put in has been worth it. We're healthier and happier now, and my siblings' personalities are at last revealing themselves to us.
The program itself is much more rigorous. We all have to do our share to make things work, and by the end of most days we feel exhausted, but it is worth it. My sister can speak and read. And my brother is showing more progress than we ever thought he would. I spend about an hour out of my day helping my mom with the program, and now know how to creep, crawl, do reflex bags, and other parts of the program with my siblings. My mom doesn't have to feel the weight of it all on her own. My dad and I are doing what we can in between work and school. Even my grandparents help! I know just how hard my family works and feel very appreciative of them.
I've become confident in my ability to help, and I feel so proud of my younger siblings, and even feel a connection with them that used to be nearly nonexistent. I feel safer in my own home, and know that while things aren't perfect, my brother and sister are on their way to healing. My brother is no longer as aggressive as he once was, and instead is now very gentle and sweet. My sister has stopped shutting me and everyone else out and has finally become like a true sister to me.
I have gained far more empathy for those different from me because of this experience and program, and most importantly, my parents seem much happier and healthier than they have in a long time. Thanks to the Family Hope Center, we have once again become a family.
We are a family of six. My husband and I have four children. Our second child started receiving services for autism at age two and a half. We were very proactive and diligent in seeking therapies and advice from the best, but after nine years of speech, occupational, physical, and behavioral therapies, [my son], at age eleven and a half, still struggled immensely and was functioning at 35 percent brain function, or as a two- or three-year-old.
Our two biggest fears when considering traveling to the Family Hope Center were: Is [our son] too old? And Are we strong enough to even try? Fear can be quite crippling and it's not easy to keep trying, buy our family couldn't deny our feelings of discontent and restlessness.
I wanted to go to the movies or church without having an emergency exit plan. I wanted my son to have the internal motivation to do things for himself and others, and not constantly have to bribe him with screen time or treats. I wanted hm to learn to ride a bike, tie his shoes, bathe himself, create stories, respect people's things, and engage with his family.
After nine years of conventional therapies, none of those goals were achieved. The unmanageable cost for these therapies and the lack of results were debilitating.
[My son's] behaviors of erratic sleep, impulsiveness, self-injurious behaviors, and indifference to any discipline were creating resentment within our family. The countless meltdowns, the self-biting, the repetitive screeching, and our inability to do things as a family were all depleting our desire to try. We knew more was possible; we just had no idea how to achieve it.
But by the grace of God, we attended the Family Hope Center Parent Training Course. By the third and final day of the course, my husband and I had a renewed sense of purpose. We started to learn how to be part of the solution, instead of part of the problem.
For the last five years we have been implementing the comprehensive neurological approach designed by the FHC team. We as a family have witness neuroplasticity and continue to see that growth is possible, no matter the age!
We as a family have the clarity of discernment and we are no longer fearful. We know our power. We know the brain grows when a family rallies behind the one struggling and stands united in implementing an evidence-based, systematic approach in a loving home.
[Our son] is now sixteen years old and at the brain development of an eight- or nine-year-old. He is independently bathing, riding a bike, tying his shoes, writing and reading, balancing a checkbook, doing chores, running, playing sports, and so much more.
[He] has taught us about love, forgiveness, and service.
Allow your child to lead you. Be the change they need to thrive! Be strengthened and supported by the Family Hope Center team as you do the work and reap the rewards.
God bless you all.
We didn't realize our child had special needs until he was about twelve years old. He just seemed quirky, and like a very bright young man who just didn't want to do schoolwork and couldn't get along with people. I was embarrassed by his actions most of the time and was getting desperate for help.
My loving friends told me about the Family Hope Center and dragged me to the three-day parent training. At the training, many of the behaviors I'd observed were no longer a mystery.
Though I knew this would help my son, I felt like I didn't really belong in the program since my child would walk, talk, and read. Matthew [Newell] acknowledged my concern and told me that many times, kids like mine are the most misunderstood and will benefit tremendously from getting organized. Whew! I knew I was in the right place.
Beginning the program was the start of many fights with [my son]. The first being the diet. There was a lot of yelling and pushback about the "horrid-tasking food." Every chance he got, he would "cheat" by eating junk. Mostly, all we could accomplish during the first eight months was creeping and crawling, and not nearly the recommended distances.
We did our best with where we were. We kept going. [My son] needed me.
Even with all the fighting, and the struggle to get all the pieces of the program done, we started seeing progress after about six months. There would be long stretches of time without obvious progress, and then a switch would flip.
We carried a heavy burden of guilt for not helping [my son] sooner, for not seeing his needs, and for not being able to do all the [recommended] program. Yet, we kept at it. Going back for follow-up visits was crucial for keeping us on track. I needed to be reminded of the brain healing program we were doing. The staff also encouraged me because they could see progress where I was blind to it. They told me I was doing hard work and that [my son] was worth it.
Today, [my son] is nearing the end of the program, and he is motivated to do it on his own. He is almost eighteen years old and craves his vegetables, often turning down foods on his own and seeking veggies even when we travel.
Without the concerted effort of getting him organized, [my son] wouldn't be driving, working, or graduating high school. I'm not worried about him ending up in jail because he exploded at the wrong time. He has friends and will be able to self-regulate in the stresses of life. His anxiety is gone, he has a bright future, and he's a delight.
The [knowledge of the] program is a gift. The results are priceless.
Amanda and Danie van der Walt
Greetings from South Africa! I attended the Parent Training Course in February this year. With her first evaluation I did [during] the Parent Training Course, our daughter was neurologically two and a half years behind her chronological age, and she was at 70 percent degree of function.
For six months we only did the Family Hope Center program and reflex integration of five reflexes that were still active. We also had three craniosacral sessions. I evaluated her again after three months on the program and as astonished at the improvement she'd shown. (Not to mention the difference we'd already seen in her behavior, emotions, and actions at that point!)
I did her six-month reevaluation recently, and at first, I didn't expect there'd be much more improvement, but when I'd finished, I was in awe! Her "neurological age" has caught up with her chronological nine years of age completely, and she is at 99 percent degree of function!
Last year we were told that her challenges were due to her "wiring" and that we could do nothing about it. We were told "She needs to learn to cope with it."
Today, a year later, all those challenges are a thing of the past. She again is the happy, flourishing girl we had lost during the last few years. And our family has completely healed.
None of this would have been possible if it wasn't for Matthew and Carol. I would not have known about the Family Hope Center if it wasn't for one other mom and the Brain Child Fund's information session last year. I am eternally grateful to our Lord for bringing us to you, so that our daughter could be healed.
Because of this, I have been spreading this good news as far and wide as possible, so that more children and their families can heal. Thank you for doing what you do with so much drive and enthusiasm! Thank you for empowering us as parents to be the necessary "assistive devices" to our children in their lives.
Our seven-year-old daughter had learning and socializing difficulties during first grade (of elementary school).
Before [beginning] the [recommended] program, she displayed many physical symptoms, including abdominal pain and constipation, headaches, trouble sleeping, and excessive sweating in her hands and feet.
She had difficulty concentrating; cried when she didn't get her way or was unable to explain her feelings; exhibited compulsive behaviors with food, mood swings, sensitivity to sounds; had difficulty making friends or sharing; and suffered low self esteem.
A psychologist evaluated our daughter and thought [that although] she had a normal IQ, she demonstrated challenging negative behaviors, and needed therapeutic support aimed at restructuring thoughts of anxiety. Before starting the Family Hope Center's program, a psychiatrist [also] evaluated our daughter and confirmed that she had anxiety and recommended that she be medicated.
My husband and I decided to attend the FHC parent training conference in Philadelphia to help our daughter. We found out that her "neurological age" was five years old, and that [much of] the gap was [related to] her food intolerance.
We implemented the FHC program, and after six months our daughter reached the level of her peers. We decided to continue the program. Seven months later, her "neurological age" increased by almost a year. By the end of eighteen months, when our daughter was eight and a half, her neurological age had reached eight as well.
She is now a leader, an excellent student, and a sports lover. Thanks to the Family Hope Center program, she is healthy, successful, and happy.
I will admit that as an acupuncturist who has spent a ton of time studying nutrition, I didn't expect to learn much from the nutrition [part of the Parent Training Course]. When I brought my son to the Family Hope Center, I already knew how important diet was.
As a child with an impressively rare genetic disorder that causes epilepsy, global delays, and a long list of challenges, [my son] was already on a diet full of whole, organic foods, and void of gluten or dairy to avoid inflammation and a leaky gut.
I had read about using the keto diet for epilepsy, but as a single mom who was already juggling quite a lot, I was daunted by the prospect of measuring and weighing food. Instead of putting [my son] on a strict ketogenic diet, we worked with the Family Hope Center team to reduce grains and sugar, both of which increase his tremor and can trigger seizures.
By looking more closely at [my son's] diet and what we were eating, I was able to find ways to make easy substitutions and ensure he was getting the right nutrients and right fats to support his development. The team helped me work smarter, not harder.
By making simple changes in both our diets, we were able to see pretty remarkable changes in [my son] very quickly. His muscle tone is significantly better and he's now beginning to walk independently. His tremor is almost gone and now he only has seizures when he's sick.
[My son] is now able to engage with toys and other children more meaningfully. It's amazing to watch him interact more with the world around him. I love watching him notice new things. His "neurological age" doubled from our first session to our second session at Family Hope Center, and honestly, I was doing less work with him than I had been before!
While I was already fortunate enough to know how important whole foods are, the Family Hope Center helped me isolate the ways that I could fine-tune the hard work I was doing. What has been incredible is the difference in both of us. [My son] and I both have more energy and focus and continue to feel better and better. Good food really is the best form of medicine, and when done right, it can heal the whole family!
Learn More About the Online Parent Training Course
Start understanding your child's brain!